The ban applies to all businesses and organisations which operate in WA.
Organisations that are no longer able to provide a banned item include: restaurants, cafes, bars, takeaway food shops, party suppliers, supermarkets, packaging suppliers, market stalls, not-for-profit organisations (including charities and community groups), online stores and many more.
We note that it is an offence to provide false or misleading information about a banned item from 1 January 2022.
Plan ahead and transition early.
Assess which items in your range need to change. Consider attending an info session or calling the hotline.
Stop ordering banned items now and use up existing stock.
Order alternatives and change stock well ahead of the ban deadlines to avoid supply issues.
If you have large amounts of stock, speak to your supplier as they may accept returns or exchanges.
You may also be able to transfer excess stock to another state (however be aware of similar bans in other states),
If you cannot exhaust, return, exchange or transfer your stock in time, contact a local recycler to see if they can take some items.
See more advice for excess stock here
IMPORTANT:
You cannot continue to supply banned stock after the ban deadlines, even if you purchased it before those dates.
Suppliers should also be aware that it is an offence from 1 January 2022 to provide false or misleading information about banned items.
Weigh up your best long-term options.
Consumers are increasingly seeking to support sustainable businesses and products.
First, consider whether you need to keep supplying items like straws and cutlery if your customers do not really need them.
Next, think about whether you can use reusable, washable alternatives and reduce the amount of items you give away. Encourage customers to bring their own.
Then, if you still need disposable items, ensure they are compliant and food safe. Check the specific rules for each item as well as banned bioplastics.
If you are unsure about options, speak to specialists at the National Retail Association. The NRA team can also advise on bans in other states.
Ask your supplier to answer these questions
Every business should get answers to these questions in writing, before ordering alternatives. You can simply copy and paste the questions below into an email.
Do these items comply with the WA plastics legislation that comes into effect in 2022?
Do these items contain any form of plastic or compostable plastic?

Compostable plastic alternatives are banned for most items.
The only exemptions are bowls, containers or cups which are primarily made from paperboard and have achieved Australian composting certification (either AS 5810-2010 or AS 4736-2006).
It is an offence to supply banned items, or to provide false or misleading information about a banned item.
Check for other changes you need to make.
By changing to a more sustainable alternative, you may need to alter some of your equipment, storage, fixtures or processes. For example, you may need to look at bag holders, storage life of new products, price changes, or adapt your food preparation systems.
If you supply items beyond WA, you may also like to update your website or marketing materials to indicate banned products and prevent WA clients from purchasing these.
Help your staff prepare for changes.
Prepare your staff for customer questions about the ban and inform them of the positive changes you have decided to make. 
Retail and hospitality staff may be asked to explain why you no longer offer some items or to provide more information on new items. 
Manufacturers, suppliers and their customer service teams will need to be aware of products in their range which cannot be supplied to WA clients.
If you have decided to continue providing plastic straws for people with a disability or medical need, ensure staff know that they are allowed to provide a single plastic straw only if it is requested. These straws must also be kept out-of-view and out-of-reach of customers.
Inform your customers ahead of time.
Inform your customers of the ban and prepare them for changes you will be implementing. Some customers will welcome the change while others may take a little time to adjust. Customers should be made aware that the ban is not optional and penalties apply for businesses.
You may like to encourage customers to bring their own reusable bags, utensils or containers if this is suitable for your business model. You may even like to sell your own reusable range.
Display signage early.
We recommend that all retailers display signage well ahead of the ban dates so your customers have time to prepare. Place posters behind your counter, near point-of-sale, or where banned items would have been supplied. You may like to send out communications informing regular customers or verbally reminding them in-store as the ban approaches.
Signage is available here.
Want to receive updates, new business resources and details of information sessions? Keen to have your say on the Stage 2 ban?
Need some help understanding the ban or your obligations? The National Retail Association are providing free information sessions, retail workshops, email updates, and a tollfree hotline for businesses.
MONTHLY 'POP-IN' SESSIONS
We are hosting monthly online 'pop-in' sessions (last Wednesday of each month Feb-July 2022), designed for retailers, hospitality and suppliers directly impacted by the WA ban to 'pop in', ask us questions, train their team/clients, and raise emerging concerns.
You are welcome to come along to any session to ask your questions, but you do not need to attend every session as content will be repeated and any critical news or updates will be relayed via the link below, not these sessions. If time, we can also answer questions about bans in other states.
Sessions are held via Zoom. All resources and sessions are free.
From February to June, the NRA will be visiting over 200 shopping centres and precincts throughout Western Australia to assist retailers transitioning away from banned bags.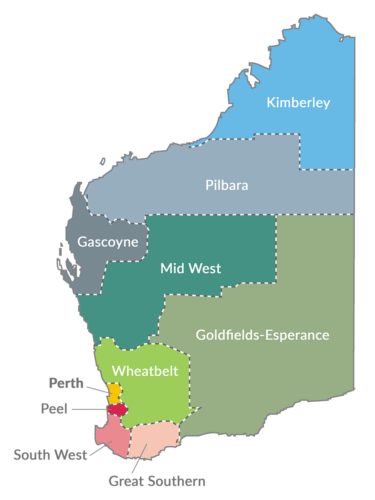 At each shopping centre or precinct, the NRA team will visit retailers in their stores, providing printed resources and providing advice on retailer queries such as:
What does my business need to do and by when?
What are the best alternatives for my business?
How should I manage the transition?
How should I inform customers?
How should I prepare my team?
What resources are available to help me?
We strongly recommend that all retailers that currently provide banned items to customers meet with an NRA representative during these visits. 
We encourage all businesses to Register for Updates.
The NRA are sending regular communications to provide any updates, new resources, invites to information sessions, and details on Stage 2 consultation when made available by the WA Government.
Come along to
info sessions.
Need help understanding the ban and how it applies to your product range?
The National Retail Association are holding monthly online Q&A sessions for businesses to pop in and ask questions of our expert team.